TITLE
Connectez vous
Connections via Vegetation


PROJECT

Just as you water and care for your plants, so they can water and nourish you in return. One of the most ancient rituals between people and plants is tea. For centuries, tea has been an essential part for cultures worldwide. It provides a sense of comfort, tradition, and camaraderie for those with whom you share. The goal of this project is to foster the interpersonal connection tea can create between two people. For the final tea set, it includes two cups and a special tea pot with two spouts side by side ensuring you always pour for two.
MATERIALS
felt pen and paper
stoneware clay
clear glaze
created in Paris, France while at ENSAD
TITLE
L'espace ouvert
Open Office Solutions

PROJECT

Everyone hates open offices. It's common knowledge at this point. They decrease productivity, increase illness, and destroy all sense of privacy. The idea is if you want to talk, reserve a meeting room. For quick informal chats, it's more of a hastle to move all of your stuff for five minutes, so many conversations happen standing at someone's desk. This adds up to a lot of noise.
"Suspendre" is a concept for quickly creating privacy at your desk for when you're making too much noise and want to be courteous and for other workers to continually decrease the noise surrounding them. It raises and lowers to dampen noise and tilts on four points to block sound directionally.


MATERIALS

felt pen and paper
scrap rebar
arc welder
wool fabric
needle and thread


created in Paris, France while at ENSAD

TITLE
Le sous terra
"The Underground", a speculative city
PROJECT

Le Sous Terra was a study on speculative cities. In our theoretical future, global warming goes unchecked and people are forced to move underground for protection.

"Contrary to what the Jonas Brothers might have said, their « great, great, great grand daughters » are not « doin' fine ». There is a 95% chance they are dead..."
MATERIALS
diy bioplastic
mushroom grow kit
journals
posters
created with a group in Paris, France while at ENSAD
scroll for journal pages ︎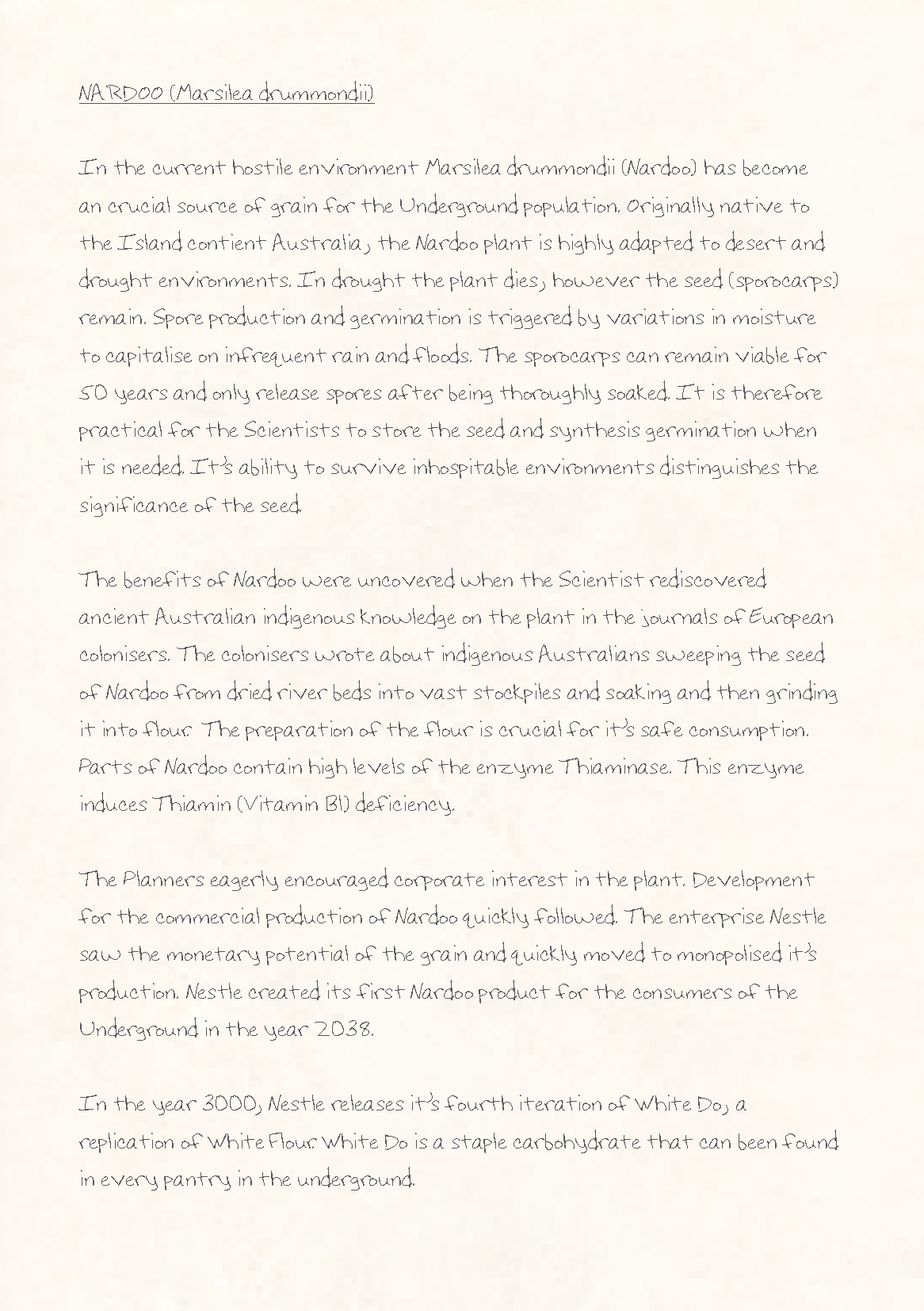 TITLE
Broadway Junction is...
PROJECT

A brand sprint where each team chose a company to analyze and rebrand to better fit their users.
My team decided to choose the Broadway Junction metro station in Brooklyn (technically an unbranded space). This is a cultural hub where seven Brooklyn neighborhoods meet and may be one of the last un-gentrified areas of the borough. We wanted to see what would happen if we began the gentrification process.
MATERIALS
sketching
photoshop
illustrator
Google slides
this project was in collaboration with two other students: Chris Thornhill and Leo Spinos