PROJECT

Meet your new backpacking cooking system, the convenient cooking and storage unit. This stove is an upgrade to the current MSR whisperlite liquid fuel stove. The new kit includes a 1.1-L pot, skillet, lid, and stove with integrated wind protection that collapses and locks together for easy portability.


MY CONTRIBUTION

brand analysis
market analysis
user testing
user interviews
conceptualizing
sketching
illustration
Rhino 3D model
Keyshot renders

The stove system includes a skillet (which doubles as a plate), a lid, the stove, and the 1.1-L pot.
---
LIQUID FUEL VERSUS CANISTER STOVES

LIQUID FUEL STOVES are known for their long lifespans and durability in all weather.
+
CANISTER FUEL SYSTEMS are praised for their ease of use, and all-in-one "packability".
---
USER TESTING
Liquid Fuel
Prep the pump

Fill fuel bottle to line, insert pump and tightly screw onto fuel bottle, pump to pressurize.
Set-up stove

Unfold stove legs and put on heat reflector, insert brass end of fuel line into pump.
Preheat stove

Let some fuel into priming cup, close fuel valve, light cup
Cook, serve, eat

Reopen control valve, set up windscreen, cook, clean
Canister Fuel
Set-up Stove

Screw together tightly.
Set-up pot

Unfold legs, attach to canister and twist pot onto stove.
Cook

Open valve, light, adjust heat, cook, close flame adjuster.
Eat, clean

Eat from pot, clean, nest pieces, toss empty fuel can.
---
PROS AND CONS COMPARISON
Stable Base
Pot is not secured to stove
Lots of small pieces
Fuel canister is reusable
Flame doesn't change with fuel levels
Unstable height
Pot locks into stove
Simple contents
Fuel canister is disposable
Flame weakens as fuel burns
---
Create a system with the ease of use of a canister stove, but stability and reusable fuel system of the liquid fuel stoves.

---
THE PACKABLE SYSTEM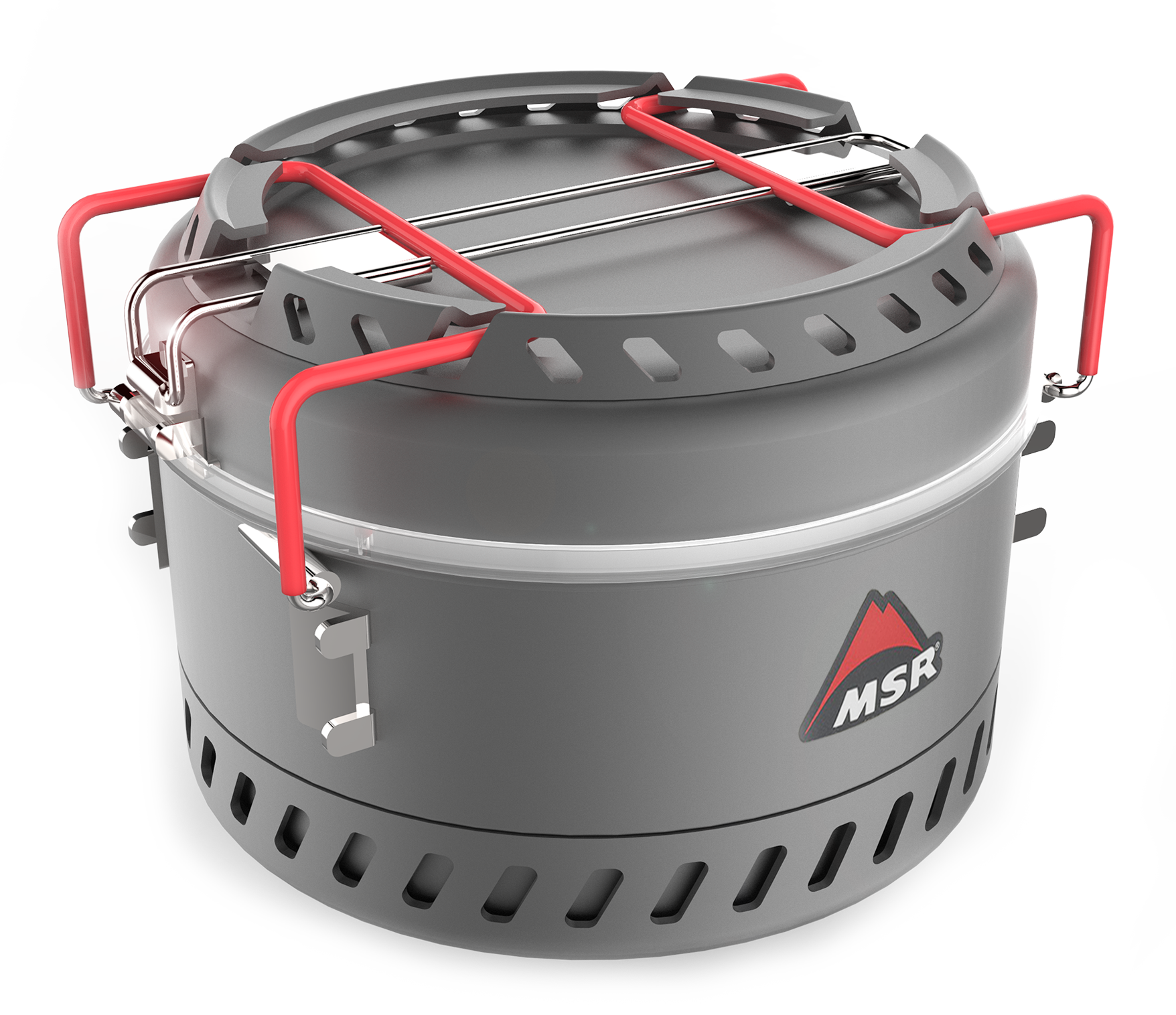 The whole system collapses and locks together for easy transportation and maximum protection for the stove. The stove fits directly inside the pot, the cooking lid keeps pot and skillet aligned, and the skillet acts as the lid and a storage area for utensils.






---




STOVE, WINDSCREEN, AND HEAT REFLECTOR IN ONE




Instead of setting up a flimsy windscreen and heat protector around the spindly-legged stove, the new version incorporates all of the elements into one super lite, but sturdy aluminum frame.

---
POT, LID, AND SKILLET
The 1.1-L pot is perfect for cooking for one. The handles also act as the locking mechanism for the entire system.
The lid fits both the pot and skillet for mess free cooking. It also has holes to one side for easy straining.
Unfold the skillet handle and lock into place for easy frying. It can also be used as a plate/bowl and utensil for storage when packed. The base has a unique groove allowing it to stabilize with the stove edge and still providing heat ventilation.
---
HEAT EXCHANGE SYSTEM



For added stability, the pot and skillet lock into the stove.

However, since airflow is critical for keeping a fire going, the base of the pot is double walled with vents on the exterior to drive air from the base of the stove up through the base of the pot.